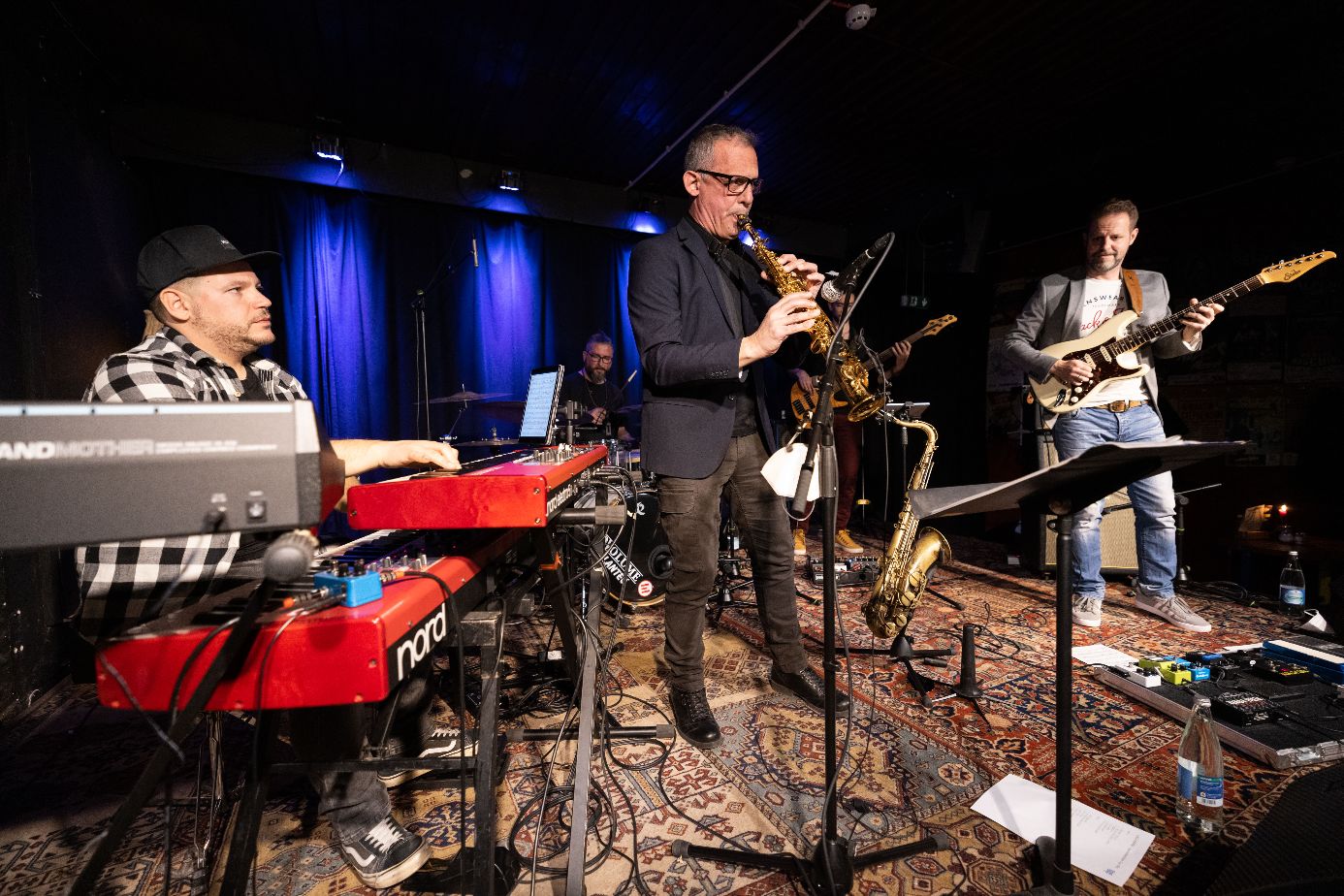 Final Step's broad horizons
A band "Made in Switzerland" with a rock-jazz flavour, Final Step's stylistic signature is post-Miles Davis electric jazz in its canonical variant usually referred to as 'fusion'. To put it more precisely, the shelf on which we could place this formation is that of a jazz-rock band, where the bifrontal brand indicates a style marked by an intense rhythmic pulse, often persistently dual and funky. In this band, the dust is shaken off the cuff, animated and driven by the power and strength of new ideas. An intense compositional creativity that offers a reinterpretation that is anything but philological, but rather evolutionary, of a way of bringing jazz together with the rhythms of rock.
The Band and It's History
Final Step published their previous album in 2017, which documented their 2nd July 2016 live performance at the Estival Jazz in Mendrisio (CH). An intense and passionate album that testifies to the will and ability to relive from within one's self with creativity and joy, a fusion, which far from being limited to just being a craft, is rather a musical game and a dense interplay with the public.
Toda's line up includes: Matteo Finali (guitar), Mirko Roccato (saxes), Alberto Citterio (keyboards), Federico Barluzzi (bass) and Dario Milan (drums).
Many musicians from the Ticino region of Switzerland and nearby peninsula have been involved in the long journey that has led to the present day, such as Dario Milan, Alessandro Ponti, Mirko Roccato, Gabriele Pezzoli, Fabio Buonarota, Francesca Morandi, Walter Calafiore, Silvano de Tomaso, Max Pizio, Rocco Lombardi, Gian-Andrea Costa, Frank Salis, etc.
The Story
The artistic project, founded in 2003 through the creativity of its founder member Matteo Finali, debuted in 2010 with the very first album, "Desert Trolls" in which the group at it's first trials in sound 'gymnastics' seem to seek a pathway, testing the tightness of the arrangements and finding their strengths. All containing a considerable measure of energy. The album was released on the Tetraktys Music label (Giubiasco) and was well received by both the public and critics. Alongside Matteo Finali, in this first phase, is Max Pizio on sax.
With "Uncle Joe's Space Mill" of 2014, published by the label Altrisuoni (Manno), an extremely personal evolution seemingly begins.  Matteo Finali, always supported by Max Pizio, but now flanked by a quartet of well polished, mature and ambitious instrumentalists, begins a very original exploration of rhythmic modules of North African and Maghreb origin.  The electric-tribal mixture here is moving in a direction perhaps a little less funky, but no less enjoyable or involving. It is this turn that imposes a decisive change to the poetics of the band, today making the trait of their style evermore interesting.
The third disc, 2015's "Three Sails – Live @ Il Magazzino", released on the Bernese Unit Records label, marks an evolution not so much in repertoire as in the expansion of the ensemble. The front line horns are now two, trumpet and saxophone: The songs from "Uncle Joe's Space Mill" now resonate in a new framework; a subdued strength in expression. As if, having found the most reliable and sustainable format, the band explores the personality of each of the pieces with an authority and a calmness worthy of note.  The souplesse is perfectly evident watching the live footage of the recording, which is contained in a DVD attached to the release.
2016 and the year of Estival Jazz was the right context to give voice to a wide and complex musical dimension, rich in energy and arrangements.
In 2017 the group's fourth album was released entitled "Live At Estival Jazz", containing live tracks from the 2nd July 2016 concert and which saw Final Step take the stage at Estival Jazz 2016 in Mendrisio before the very famous group Steps Ahead. From here, Final Step set off on a new adventure, moving into a creative exploration that has become increasingly clear and defined.  The route is drawn on the map of the collective project. It exploits the resources of a genre that shows not only to be perennially vital, but also to be able to lend those resources to new and unexpected musical forms.
In 2021 guitarist Matteo Finali brings Final Step with their 5th album release, Disconnections, adding an extra layer of slick production, colourful effects and bite-sized interludes to the proceedings.
Disconnections is a journey into the depths of the soul and of past, familiar and personal experiences of hearings, memories, and of the masters: An acknowledgement to pause and reflect, to the reshaping of content and of a music that runs through life and permeates throughout it.  In this sense, the word 'fusion' becomes the label in which to frame a complex artistic project and in which memories of various authors who have influenced Final Step's musical pathway, meet with joy and great respect.
Above all, Disconnections is an invitation to stop and to pick out the sounds in one's life and of music in real life, away from a compulsive and noisy world.
"At a time when everyone is seemingly 'connected' all the time via their computers and phones, we want to bring a much-needed jolt of energy, reminding people of the importance of disconnecting and enjoying the spirit of live music".